High Perfomance AlTiN Coated Carbide Countersinks for Wood Screws
55200XL High Performance Carbide Tipped AlTiN Coated 82 Degree Countersink #4 Screw 11/32 Dia x 3/32 Drill Dia x 5/16 Round Shank
#55200XL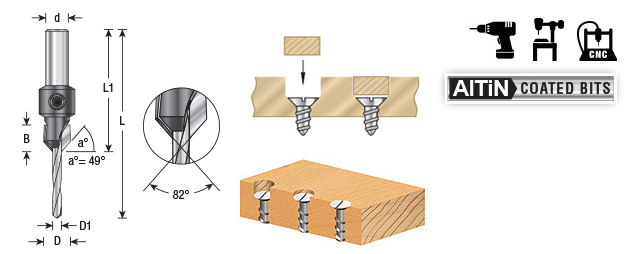 Used to countersink holes for the heads of screws in woods and plastic. The 2-flute integral design ensures uniform and concentric results each and every time. High performance carbide tips with Aluminum Titanium Nitride (AlTiN) coating provide chip free hole edges and lasts longer than uncoated carbide tipped and much longer than steel countersinks.
Available in a wide variety of sizes, complete with the HSS M2 fully ground drill bit.
Excellent for Drilling:
Natural Woods
Man-Made Boards
MDF
Chipboard
Plywood
Composites
Composite Decking Materials
High Density Polyethylene (HDPE)
AlTiN coating has many benefits:

Extra wear resistance
Allows for faster feed and speed rates
Cutting edge protected from wear
Better chip evacuation
Less heat build up
Superior cutting quality and extended tool life
CNC Countersink
Drilling countersinks with these bits on the CNC machine is a great way to save time and have your pieces look great every time!
With the adjustable depth drill bit you can adjust them for whatever size material you're working with. They are best used with a drilling toolpath, utilizing the peck drill option at .25" per pass with a .125" retract height.
For best results run at 3,000 RPM with a 30 IPM (Inches Per Minute) plunge rate. No feed rate needs to be set with these as they only move up and down with the Z axis, not side to side. If your software doesn't allow a 0 feed rate, you can enter 1 IPM (Inch Per Minute) in the feed rate as a placeholder.
For countersinks with 1/4" round shank, use 1/4" spring collet.
For countersinks with 5/16" round shank, use 7-8mm spring collet.
For countersinks with 3/8" round shank, use 9-10mm spring collet.