Insert Carbide Mini Spoilboard Surfacing, Rabbeting, Flycutter, Slab Leveler, Bed Skimming & Surface Planer Router Bit with Scorers
RC-2250 Insert Carbide Mini Spoilboard Surfacing, Rabbeting, Flycutter, Slab Leveler & Surface Planer 2+2 Flute Design 1-1/2 Dia x 1/2 x 1/2 Inch Shank Router Bit
#RC-2250
Specification

| | |
| --- | --- |
| (D) Diameter | 1-1/2 |
| (B) Cutting Height | 1/2 |
| (d) Shank | 1/2 |
| Overall Length (L) | 2-5/16 |
| Type | Insert solid carbide |
| Max RPM | 24,000 |
| Replacement Knives | HMA-12, HCK-70 |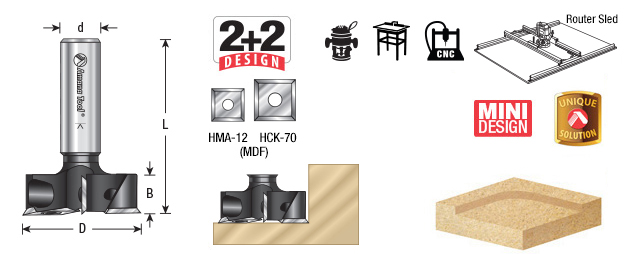 Mini insert carbide spoilboard surfacing & rabbeting with scorer, great for cutting tight corners. Features unique 2+2 insert knife design that contains two cutting flutes and two up-shear scorers, which provide a smoother finish at the bottom of the cut than traditional two-knife style router bits. Great for surface planing.
Also suitable for router sled machines,

Make sure that your router sled is fully stable and squared.
Perfect for:
Resurfacing spoilboards using CNC
2+2 spoilboards contain two bottom scorers for better performance, finer surface finish and better clearance for 90º corners.
Planing large glued up panels using CNC
Surfacing and finishing wood using timber slab machines
Rabbeting or slotting
Designed for planing & rabbeting the following materials:
Balsa Core

*

Epoxy (Epoxy Resins)

*

High Density Urethane (HDU Board)

*

Plastic/Acrylic

**

Plywood/Chipboard

*

Hardwood/Softwood

*

Ultra-High-Molecular-Weight Polyethylene (UHMWPE)

*
*For optimal results and maximum insert life, replace inserts with optional general purpose knives #AMA-12 and #RCK-70 (sold separately).
**Use lower CNC spindle RPM and adjusted feed-rate to prevent Melting and adhesion of the acrylic material to the tool.

Featuring:
2+2 design
4-sided solid carbide insert knives
Exclusive carbide grade for highest quality of cut
Maximum cutting efficiency
Faster material removal process
These industrial router bits feature solid carbide insert knives with four cutting edges that allow users to rotate the knife when one side becomes dull providing the highest-quality finish available on woodworking tools.
Recommendations: For surfacing solid woods it is recommended to remove both bottom scorers.

Proper torques rating to tighten down screws is 2-3Nm Torques.


Vectric and Fusion 360 compatible tool files for RC-2250 available for download, click here.
| Included MDF Knives Bottom (2 Required) | Included MDF Knives Side (2 Required) | Optional General Purpose Knives Bottom (2 Required) | Optional Solid Wood Diamond-Like Carbon (DLC) Knives Bottom (2 Required) | Optional General Purpose Knives Side (2 Required) | Optional Solid Wood Diamond-Like Carbon (DLC) Knives Side (2 Required) | Torx Screw Bottom (2) | Torx Screw Sides (2) | Torx Key Bottom | Torx Key Sides |
| --- | --- | --- | --- | --- | --- | --- | --- | --- | --- |
| HCK-70 | HMA-12 | RCK-70 | RCK-70-DLC | AMA-12 | AMA-12-DLC | 67155 | 67115 | 5015 | 5005 |
What is the ramp in distance for .25" depth?
Thank you
Question by: Paul Gubb on Jul 16, 2020, 9:18 PM
Thanks for your email. This bit is not able to plunge. A good starting point to ramp down to a ¼" depth would be 20" to 24". I hope this helps.


Answer by: Amana Admin on Aug 11, 2020, 4:11 PM