High Production Straight Plunge 1/2 Shank Router Bits
45408-3 CNC In-Presta™ 3 Flute Solid Carbide Cutting Edge Straight Plunge High Production 1/4 Dia x 7/8 x 1/2 Inch Shank
#45408-3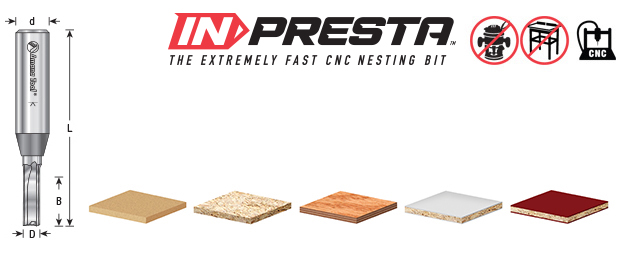 Up to 800 inches per minute!*
For cutting 7/8" material thickness in one pass
3 Flute for improved surface finish
Only 1/4" diameter equals minimal material waste
Use a three-flute bit where fine finish is paramount. Three flutes balance the bit, eliminating vibration that degrades the cut finish. Three cuts per revolution yield a smooth surface and increased feed rates. 45408-3 features a solid carbide cutting edge.
Excellent for nesting and grooving at an extremely fast feed rate which increases cost savings
1/4" cutting diameter CNC nesting router bit with solid carbide cutting edges brazed into steel 1/2" shank
The unique design contributes to superb performance and excellent cutting results
Designed primarily for high speed CNC production
Long lasting, fine micrograin extra hard carbide resulting in long tool life before re-sharpening
Excellent for Cutting:
Laminated Particle Board, MDF & Melamine: Feed rate up to 800 IPM

*

* at 18,000 RPM

*

**

Plywood: Feed rate up to 500 IPM

**

at 18,000 RPM

*

**
*Up to 800 IPM feed rate at 18,000 RPM cutting laminated particle board. Rate may change depending on material and CNC machine type.
**IPM: Inches Per Minute
***RPM: Revolutions Per Minute

Fusion 360 compatible tool file for 45408-3 available for download, click here.