Solid Carbide Signmaking & Lettering Router Bits
45730 Solid Carbide Cutting Head Brazed to Steel Shank V-Groove Signmaking & Lettering 60 Deg x 9/16 Dia x 7/16 x 1/4 Inch Shank
#45730
Specification

| | |
| --- | --- |
| Angle (a°) | 60° |
| Diameter (D) | 9/16 |
| Cutting Height (B) | 7/16 |
| B1 | 1/2 |
| Shank (d) | 1/4 |
| Overall Length (L) | 2-1/4 |
| Flutes | 3 |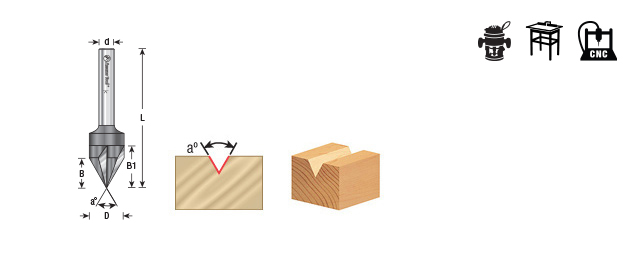 Originally developed in Europe specifically for professional signmakers, this solid-carbide cutting head brazed to steel shank bit features an extra-fine 60° point that produces a clean, precise cut. For those intricate lines, this bit is superior to standard 'V' groover. Makes crisp, clean cuts in solid woods, MDF and acrylics.
What is the chip load range on this bit?
Question by: Andrew Parker on Dec 4, 2015, 5:23 PM
Depending on material and depth of cut, at 18,000 RPM a feed rate of 140-300 inches per minute.
Answer by: admin admin on Jun 15, 2016, 6:37 AM