45982 Carbide Tipped Bowl & Tray 1/4 Radius x 3/4 Dia x 5/8 x 1/4 Inch Shank
#45982
Specification

| | |
| --- | --- |
| Diameter (D) | 3/4 |
| Radius (R) | 1/4 |
| Cutting Height (B) | 5/8 |
| Shank (d) | 1/4 |
| Overall Length (L) | 2-5/8 |
| Flutes | 2 |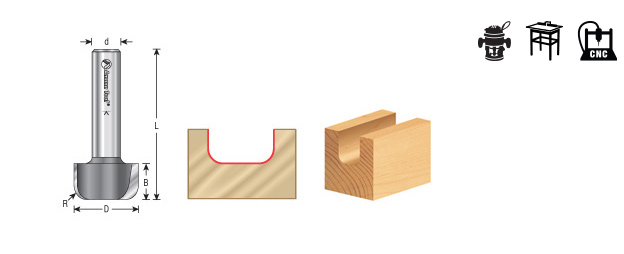 For routing solid wood serving trays, flat dishes, shallow bowls, and similar objects, use this 3-in-1 specialty plunging bit. It cuts flat, smooth bottom surfaces, vertical walls, and a transition radius between them, all in one pass. It can be used in handheld, table-mounted and CNC routers.


Vectric and Fusion 360 compatible tool files for 45982 available for download, click here.
I am looking for the suggested feed and speed for 45982. Also, is there a location or pdf for all of your bits suggested speeds. I am new to cnc and will be buying exclusively your bits.
Question by: Stephen Ertel on Oct 1, 2020, 2:56 PM
A starting point for this tool in hardwood would be 17,000 RPM's at a feed rate of 140" per minute with a chip load of 0.0044" per tooth. Watch your feed and speed rate and increase or decrease in 10% increments up or down to achieve your desired cut.
Answer by: Amana Admin on Oct 9, 2020, 7:38 PM
can I get access to speeds and feeds for bits I bought
Amana Tool AMS-264 Tyson's 4-Pc CNC Catch All Tray Set

Question by: Natalie Mendoza on Nov 19, 2020, 5:52 PM
If you are cutting hardwood, we would recommend a starting speed rate at 17,000 RPM and a feed rate of 140 inches per minute at .250" depth per pass with a chip load of 0.005" per tooth. Please adjust your speed and or feed rates accordingly in 10% increments to achieve your desired finish.
Answer by: Amana Admin on Dec 9, 2020, 9:40 PM