Solid Carbide Composite End Mill Point Diamond Pattern Router Bits
46123 End Mill Point Diamond Pattern Composite Cutting 1/2 Dia x 2-1/8 x 1/2 Shank
#46123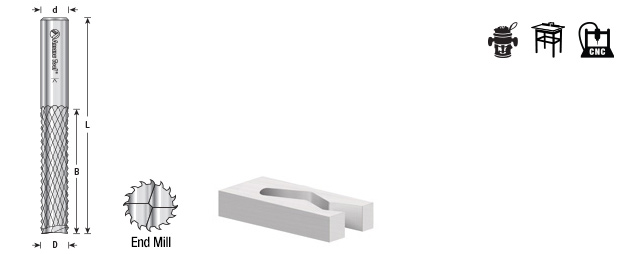 This bit is designed especially for cutting fiberglass, fiberglass PCB board, composites, phenolic and other highly abrasive materials. Works well on epoxies made with carbon, glass and composite materials. The up-cut/down-cut diamond pattern cutting edges effectively grinds through the material evenly in all directions.
Excellent for cutting:
Composites
Fiberglass
Fiberglass PCB Board
Fiber Reinforced Plastic (FRP)
Glass Fiber Reinforced Polymer - Plastic Materials (GFR)
Glass Reinforced Plastic (GRP)
G10
G11
Phenolic
Phenolic "Garolite" G-7
I am also looking at bit #44106. Trying to figure out which bit will give me a clean smooth finish.
Question by: steven tabacco on Apr 7, 2016, 10:15 PM
Thank you for the question. Depending on the material being cut and how you are cutting it if in a CNC the 46123 or by hand the 44106 bit should work fine.
Answer by: admin admin on Jun 15, 2016, 7:05 AM