Solid Carbide Ball Nose Spiral Up-Cut Router Bits
46380 Solid Carbide Up-Cut Ball Nose Spiral 1/2 Dia x 1-1/4 x 1/2 Inch Shank Router Bit
#46380
Specification

| | |
| --- | --- |
| Direction | Up-Cut |
| (D) Diameter | 1/2 |
| (R) Radius | 1/4 |
| (B) Cutting Height | 1-1/4 |
| (d) Shank | 1/2 |
| Overall Length (L) | 3 |
| Flutes | 2 |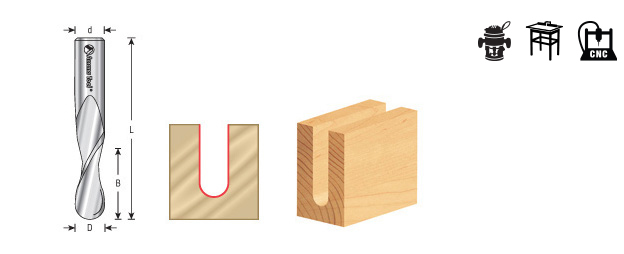 Used for carving decorative doors and sign manufacturing. Up-Cut design leaves an excellent finish and expels chips quickly.

Excellent for Cutting:


Soft/Hard Wood
Aluminum
MDF
Soft/Hard Plastic
Sign Foam

Vectric compatible tool file for 46380 available for download, click here.
Your speed and feeds doc say 1X D for deep of cut. D = tool diameter?

Question by: Robert Phillips on Feb 19, 2017, 7:47 PM
Correct, This tool has a cutting diameter of ½". If you need to find the feed rate for this tool for cutting soft wood for example you use the following formula:

Feed Rate = RPM X # of flutes X chip load.
Feed Rate = 18,000 X 2 X 0.009.
Feed Rate = 36,000 X 0.009.
Feed Rate = 324" per minute.

The information is found on the Amana Tool web site under the feed and speed chart tab. If you need to cut deeper than the ½" you need to reduce the chip load by 25% for 2 x D and 50% for 3 x D.

Answer by: Amana Tool Admin on Feb 24, 2017, 6:38 PM