Round Over Groove Router Bits
49700 Carbide Tipped Plunging Round Over 1/4 Radius x 3/4 Dia x 1/2 x 1/2 Inch Shank
#49700
Specification

| | |
| --- | --- |
| Diameter (D) | 3/4 |
| D1 | 1/4 |
| Radius (R) | 1/4 |
| Cutting Height (B) | 1/2 |
| B1 | 3/8 |
| B2 | 7/64 |
| Shank (d) | 1/2 |
| Overall Length (L) | 2 |
| Flutes | 2 |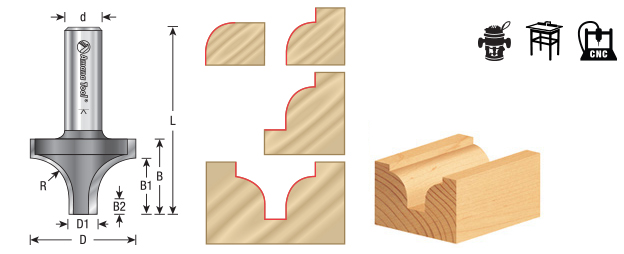 This bit creates a flat-bottom groove between two quarter-round shapes. Short vertical walls extending below the radius lend extra depth to the appearance. Depending upon the cut depth adjustment, the radii can be flush with the work surface or recessed. The profile can be formed on an edge using an edge guide or, on the router table using a fence.
Hello, I acquired this tool for testing on aluminum, but the results are not as desired.
I tried adjusting feed and rpm but I don't like the finish.
I know that this tool is designed to treat woods, I just wanted to know if it is possible to give me a table of RPM, progress and depth of pass to be able to test. Or some tool to make this molding in aluminum.
I have a 9 HP router.
Question by: Jesse torres belmares on May 22, 2020, 12:59 AM
Thank you for your email. You are correct, in the fact the tool was only made for wood. We do not recommend using this on aluminum. At the present time we do not have anything for aluminum.

Answer by: Amana Admin on Jun 10, 2020, 8:23 PM