Combination Ripping & Crosscut Saw Blades
614704 Carbide Tipped Combination Ripping and Crosscut 14 Inch Dia x 70T 4+1, 15 Deg, 1 Inch Bore
#614704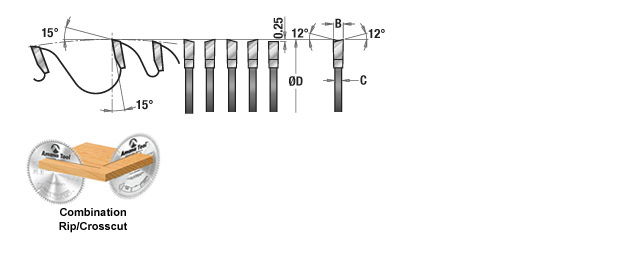 Where one blade must do almost everything – ripping and crosscutting hardwood and softwood, cutting plywood – this blade is a good choice. It is in the traditional combination-blade configuration, with a flat-top tooth and 4 alternate top bevel teeth in groupings of five. The large gullets at the raker tooth allow deep cuts with improved chip ejection.
Hi, I need to know which of the reference is de diametre of the centre of the blade

Thanks
Question by: Gustavo Echeverria on Mar 16, 2017, 3:17 PM
This blade has a 1 inch bore.
Answer by: Amana Tool Admin on Mar 16, 2017, 8:30 PM