8-Pc Double Edge Folding V-Groove Router Bits for Aluminum Composite Material (ACM) Collection
AMS-151 8-Pc V-Groove for Double Edge Folding Aluminum Composite Material (ACM) Panels 1/4 Inch Shank Router Bit Collection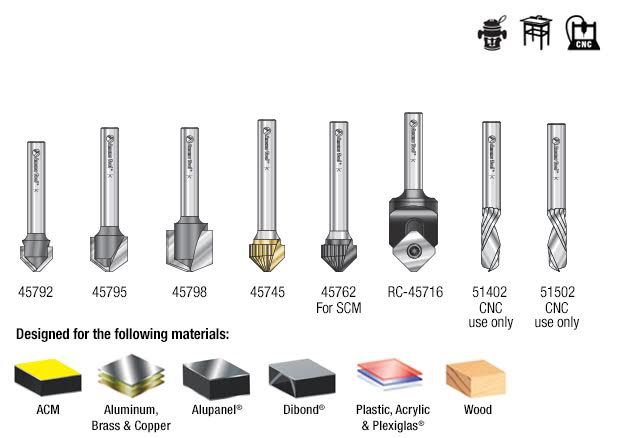 Designed for shaping Aluminum Composite (sandwich) Materials (ACM) with flat bottom V-grooves. Routing V-shaped grooves, whereby the aluminum cover and a part of the polyethylene core is removed, allows folding/creasing the remaining material by hand. Ideal for wall panel fabrication.
ACM is widely used for cladding many diverse exterior and interior applications such as office buildings, hospitals, convention centers, airports, and hotels. The long lasting durability of the material makes it an excellent choice for buildings, signage, displays, etc.
Designed for cutting and scoring aluminum sandwich materials including:
Aluminum, Clay, Zinc & Wood Composite Panels
Aluminum Composite Materials (ACM)
Aluminum Composite Panel (ACP)

*

ALPOLIC® Copper Composite Material (CCM)
Alucobond®
Alupanel®

Dibond®
Durabond

**

e-panel™
Etalbond®
Phenolics
Plastic/Acrylic
Plexiglas®
Titanium Composite Material (TCM)
Wood
*Aluminum Composite Panel (ACP) is a type of ACM flat panel that consists of two thin aluminum sheets bonded to a non-aluminum core. ACPs are frequently used for external cladding or facades of buildings, insulation, and signage. **Durabond is a polyethylene core with 0.3mm colored aluminum sheet on either side, pre-finished requiring no decoration.
| Tool No. | Product Name | Qty |
| --- | --- | --- |
| 51502 | 51502 Solid Carbide CNC Spiral 'O' Flute, Aluminum Cutting 1/4 Dia x 5/8 x 1/4 Inch Shank Down-Cut | 1 |
| 51402 | 51402 Solid Carbide CNC Spiral 'O' Flute, Aluminum Cutting 1/4 Dia x 5/8 x 1/4 Inch Shank Up-Cut | 1 |
| RC-45716 | RC-45716 V-Groove Insert 90 Deg. Double Edge Folding for Shaping Composite Panels .090" Tip Width x 19/64 x 43/64 Dia. x 1/4 Inch Shank | 1 |
| 45762 | 45762 Carbide V-Groove 90 Deg. Folding for Composite Material Panels Like SCM & TCM 0.090 Inch Tip Width x 13/64 x 1/2 Dia. x 1/4 Inch Shank AlTiN Coated Router Bit | 1 |
| 45745 | 45745 Carbide V-Groove 90 Deg. Folding for Composite Material Panels Like TCM, CCM, ACM, 0.090 Inch Tip Width x 13/64 x 1/2 Dia. x 1/4 Inch Shank ZrN Coated Router Bit | 1 |
| 45792 | 45792 Carbide Tipped Double Edge Folding V-Groove 90 Deg x 0.090 Inch Tip Width x 1/2 Dia x 13/64 x 1/4 Inch Shank | 1 |
| 45795 | 45795 Carbide Tipped Double Edge Folding V-Groove 108 Deg x 0.090 Inch Tip Width x 5/32 x 1/2 Dia. x 1/4 Inch Shank | 1 |
| 45798 | 45798 Carbide Tipped Double Edge Folding V-Groove 135 Deg x 0.078 Inch Tip Width x 3/4 Dia x 9/64 x 1/4 Inch Shank | 1 |