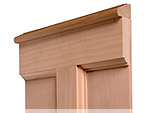 Constructing Wainscot / Wall Panels
Few architectural details distinguish a room like the addition of wainscot. The molded edges of the stile-and-rail framework catch light and create interesting shadow lines. And the bold chair rail molding provides a terminus for the paneling as well as protection for the walls.
Wainscot can be constructed with a dark, rich wood, such as mahogany or walnut, or you can use an inexpensive wood, such as poplar, and paint the wainscot a color to compliment the walls. The panels can be beveled with a raised field using no.
54117 raised panel bit.
(photo A), or flat for a less formal look (photo B). Regardless of the style of wainscot that you choose to build you'll be rewarded with an architectural feature that will add both beauty and value to your home.
With Amana's Profile Sets, such as no.
49643
, building a room full of wainscot is easy. Each set consists of two bits, the first bit cuts the cope on the ends of the stock (photo C) and the second bit shapes the decorative sticking (photo D).
To design a room full of wainscot begin by measuring the length of a wall and divide by the desired number of panels. Remember when dividing to include the stiles; and there is always one more stile on a wall than the number of panels.
Although there is no set formula for the panel size there are a few guidelines: all of the panels along a wall should be the same width. Panels can be wide or narrow depending upon your tastes. And panels usually look best if they are formed from long rectangles rather than squares. Wainscot is typically 36 inches high which includes the chair rail. The bottom rail can serve as the baseboard or a baseboard can be applied over the bottom rail for a more formal look.
A simple sketch of each wall will enable you to record the dimensions of the parts and make an accurate cutting list. Once the parts are cut to size you're ready to begin shaping. Remember to cut the cope first followed by the sticking profile. And if your design includes raised panels you'll need to cut a rabbet along the inside edges of the frame to accept them.
To complete the wainscot, use Amana Tool no.
54266
to shape a simple chair rail.
View our new wainscot router bit sets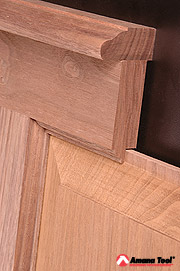 photo A
photo B
photo C
photo D